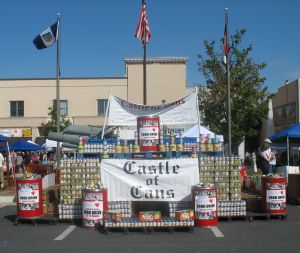 HICKORY, N.C. — The 15th annual Castle of Cans Food Drive returns to Hickory's Oktoberfest celebration Oct. 11-13.
With the area still experiencing a struggling economy, local food banks and soup kitchens are challenged to meet the needs of the hungry. The Castle of Cans Food Drive has been helpful in stocking the shelves of these agencies in the past.
Area students are collecting cans, but others' help is also needed to continue the effort. Canned food donations can be taken the last two weeks of September to Taste Full Beans in downtown Hickory, Art in the Shop in Taylorsville on Oct. 5, or to the site of the Castle of Cans in the Kidsfest area of Oktoberfest on Oct. 11 or 12. Other drop-off locations include Arndt Middle School, Startown Elementary, St Stephens High School, Maiden High School and Catawba Valley Community College.
The food will be distributed to The Corner Table of Newton, Eastern Catawba Cooperative Christian Ministries (ECCCM), Exodus Homes, The Family Care Center, The Flynn Home, Greater Hickory Cooperative Christian Ministry (CCM), The Hickory Soup Kitchen, and The Salvation Army.